Our Mold Inspection & Mold Remediation procedures….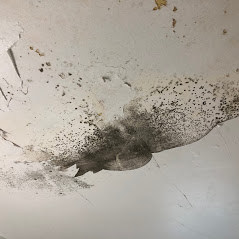 Mold Inspection & Black Mold Removal

A Mold Inspection & Black Mold Removal can be overwhelming to a homeowner, the major thing you need to think about is how sensitive are you to certain mold spores. Mold spores are present in the air we breathe, it matters how many spores are in the indoor air raw count compared to the outside raw spores count. There are thousands of different types of mold spores like Penicillium, Aspergillus, Cladosporium, Basidiospores are just a few of the mold spores that are tested for when doing an indoor air quality test. One of the more rare mold spores is stachybotrys, which usually indicates active mold present & a possible on going water leak. We do recommend to get an indoor air sampling for affected rooms in the home to prevent cross contamination. The only way mold can grow is with moisture from a water damage whether it be a supply line burst, toilet overflow, slab leak, or any other possible water intrusion.
The Mold Inspection Process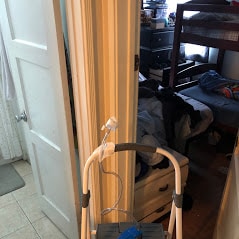 When SoCal Water Damage & Remediation Services is call out for a mold inspection we start with taking photos of the areas affected or of concern to the homeowner. After we do a visual inspection we will use our state of the art moisture detection equipment like a non-destruct moisture meter. The moisture meter detects a % of moisture from 0%-99% on a digital display that also makes a loud beeping noise to also inform you that there is more than 60% moisture it's detecting when touching that material or surface like a floor or walls. Once we show you all the areas of water damage we then do measurements including photo documentation for possibly insurance company billing. Which will allow our certified mold remediation technician to give a estimate on what the actually mold remediation will cost. If there is visible mold we do recommended to take a tape, swab, or bulk sample of visible mold to send off to a nationally accredited laboratory for the exact analysis of what type of mold spores are present. If there is a strong smell in the indoor air we would also recommend to take air samples of the indoor air, which can also be included with the tape sample.
Our Mold Removal & Mold Remediation Process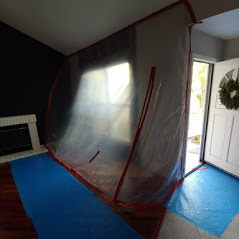 Once SoCal Water Damage & Remediation Services get's the go ahead to start the mold removal & mold remediation process we prep the work area by putting floor protection down from the door entry all the way to affected area. We also protect any furniture or belongings that are in the area. Our certified mold remediation technicians will move any items that need to be removed from area that will be under a containment. Once the containment is up & we have placed a hepa-filter/air scrubber we can then get our personal protective equipment (P.P.E.). The air scrubber is placed in the mold removal containment to remove any mold spores that might be in the air. The P.P.E. we use is eye protection, a respirator, gloves, & tyvex suite. We bag & seal all mold affected material inside the containment to prevent any cross contamination. After demolition is complete we do a hepa-vacuum of the whole area inside the containment, including a full wipe down with anti microbial solution of all surfaces & containment. We also change the 1st & 2nd stage filters in the air scrubber daily. Once everything is hepa-vac, wiped down, & re-sanitized again we will place a dehumidifier to remove the moisture from the water damaged materials. The air scrubber will stay in the containment until the mold clearance test shows the mold spore levels are clear from any harmful mold spores.
The Mold Testing Process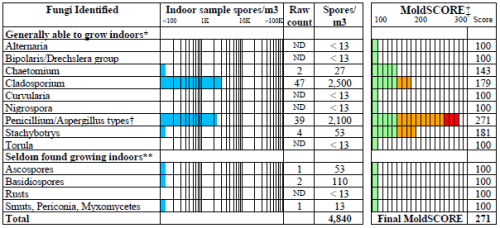 When there is a mold inspection that requires an air quality test to be completed, it usually means that you visible see the green or black mold or even sometimes mushrooms coming from carpets or clothing. If a mold test is needed it could also be from certain odors that might be lingering in the air. A mold test could also be needed if someone in the home is starting to get symptoms like a sore throat, runny nose, coughing, headaches from breathing certain mold spores over a period of time or it could affect you immediately if you are hyper sensitive, pre-existing medical conditions of any kind. Our certified mold inspection technicians will do tape, swab, bulk, & air samples to determine if the indoor air needs a mold remediation. Once we take the samples at your property we physically take them to an nationally accredited microbiology laboratory like TestAmerica, EmLabP&K. We will then receive the results next day if requested for an extra charge but usually the standard turn around time is 2 days, with a full report on what was present on the samples that where take. When a clearance test is being done it is recommended to do 3 air samples minimum (1 inside the containment, 1 outside containment indoors, 1 outside front of house) the 1 outside in front is considered the control). Which means that the indoor air sample should not be higher in raw count for mold spores than the outside control sample.
Riverside County: Canyon Lake, Corona, Eastvale, Hemet, Jurupa Valley, Lake Elsinore, Lake Riverside, Menifee, Moreno Valley, Murrieta, Nuevo, Norco, Perris, Riverside, San Jacinto, Temecula, Wildomar
San Bernardino County: Bloomington, Chino, Chino Hills, Colton, Fontana, Grand Terrace, Highland, Loma Linda, Montclair, Ontario, Rancho Cucamonga, Redlands, Rialto, San Bernardino, Upland, Yucaipa
San Diego County: Bonsall, Carlsbad, Del Mar, Encinitas, Escondido, Fallbrook, Granite Hills, Lake San Marcos, Lakeside, La Mesa, Lemon Grove, Oceanside, Poway, Ramona, Rancho Santa Fe, San Diego, San Marcos, Santee, Solana Beach, Spring Valley, Vista
Orange County: Aliso Viejo, Anaheim, Brea, Buena Park, Costa Mesa, Cypress, Dana Point, Fountain Valley, Fullerton, Garden Grove, Huntington Beach, Irvine, La Habra, Laguna Beach, Laguna Hills, Laguna Niguel, Laguna Woods, Lake Forest, Mission Viejo, Newport Beach, Orange, Rancho Santa Margarita, San Clemente, San Juan Capistrano, Santa Ana, Seal Beach, Stanton, Tustin, Westminster, Yorba Linda
If you are experiencing a mold issue please call SoCal Water Damage & Remediation Services @ (888)441-6653 for a Free Estimate!!!!